Discover more from A Writer's Jottings
Jottings shares ideas, insights, and information about writing and other kinds of creativity.
Where We Work: Artists' Studios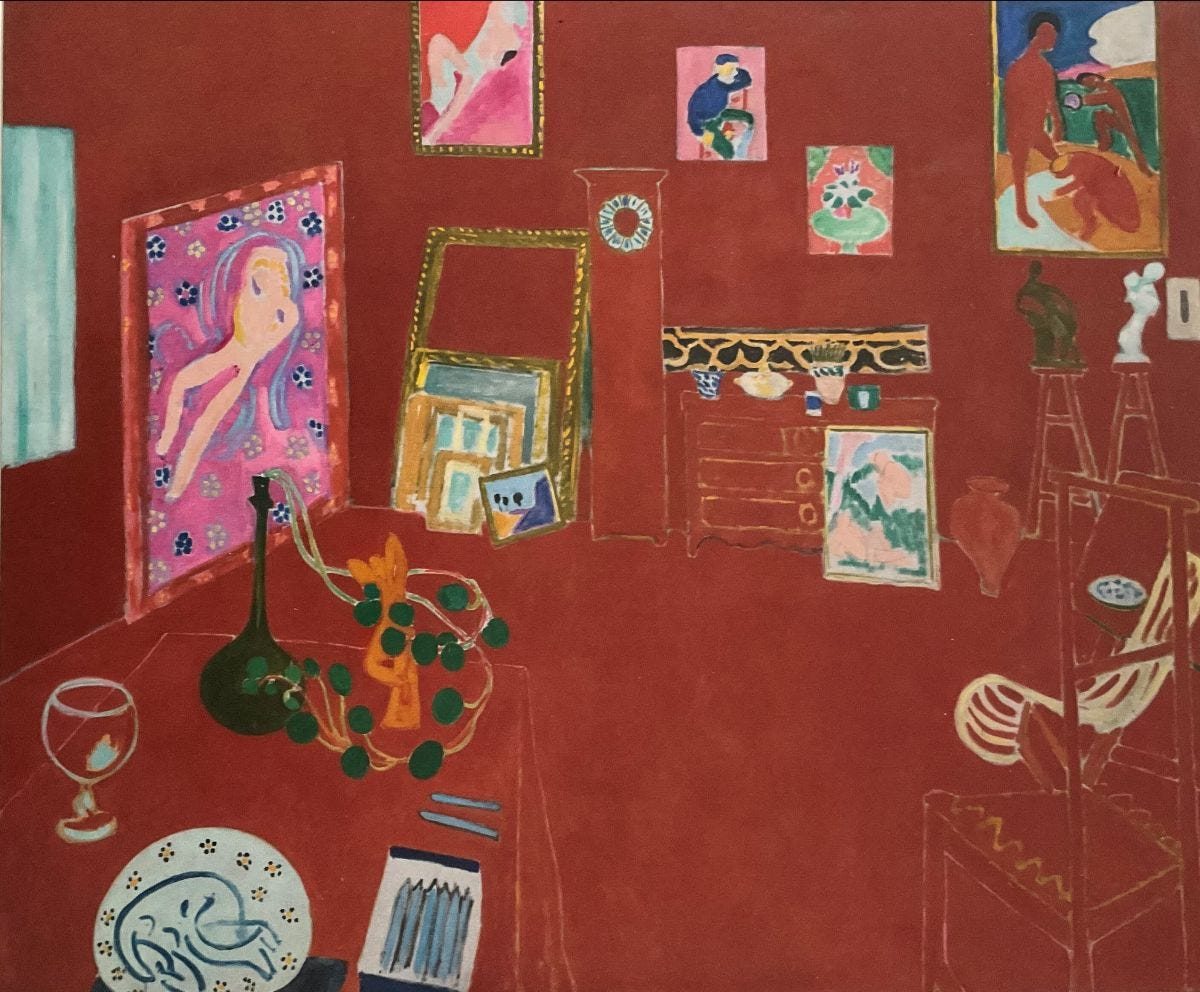 Dear Friends and Readers,

Artists have long worked in their own studios, and many have portrayed them in paint in ways that give us a glimpse at their attitudes toward their work, and how they go about creating it.

In "The Red Studio" (right), Matisse bathed his workspace in blood-red paint expressing his passionate feelings about what he did there. Likewise, Gaugain's and Bonnard's paintings of their studios are infused with brilliant colors. And Dufy's "The Artist's Studio," with a window view of Paris, is bathed in euphoric sky-blue paint.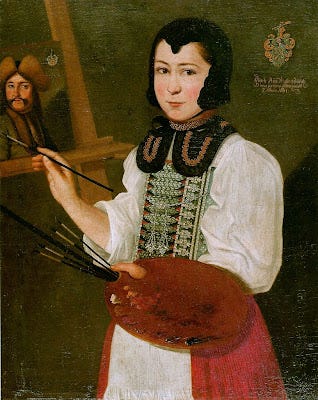 Many paintings of studios are also self-portraits, including Anna Waser's ardent "Self-Portrait," painted in 1691 (left), and Grandma Moses's peaceful "In the Studio," a 1944 picture of herself in a beautiful room with vases of flowers, antiques, her works on the walls, and windows letting in bright daylight.

Maddeningly, in his "The Art of Painting" and only known self-portrait, Vermeer depicted himself from the back as he worked from a model, but his focus and intensity are evident.

My husband Robert, an artist, and I debate about who has more fun: artists or writers. I usually admit that an artist moving about a studio while creating shapes and colors probably enjoys him or herself more often than a writer sitting at a computer manipulating black words on a white screen for hours on end.
So what to do if you're a writer? I've discovered that going into my barn room with all my rakes, baskets, stakes, shovels, and other hand tools feels like being in an artist's studio. It's joyous. And even better when I go out to water, weed,  and deadhead the flower beds full of beautiful shapes and gorgeous hues.

"This is my color, my form, my texture!" I remarked to an artist friend in my garden one day. "At that moment I understood that gardening is my substitute for making art," I reflected in Four Tenths of an Acre. "And by giving me the easy enjoyment of creativity, it readies me for the writing room."

With warm regards,
Laurie
 
More About Artists and Their Studios

In 2022 the Museum of Modern Art in New York City devoted an exhibition to Henri Matisse's 1911 painting, "The Red Studio," which is in their collection. It measures 5 feet 11 inches by 7 feet 3 inches.
Click here to see the extensive exhibition catalog.

Women in the Act of Painting is a pictorial blog about the artwork of many women artists at work in their studios both depicted by the artists themselves and by other artists.

"Artists Caught in the Act" by Roberta Smith, The New York Times, Jan. 5, 2007
 
Books by Laurie Lisle
Click on book cover to view each title