Discover more from A Writer's Jottings
Jottings shares ideas, insights, and information about writing and other kinds of creativity.
Where We Work: Writers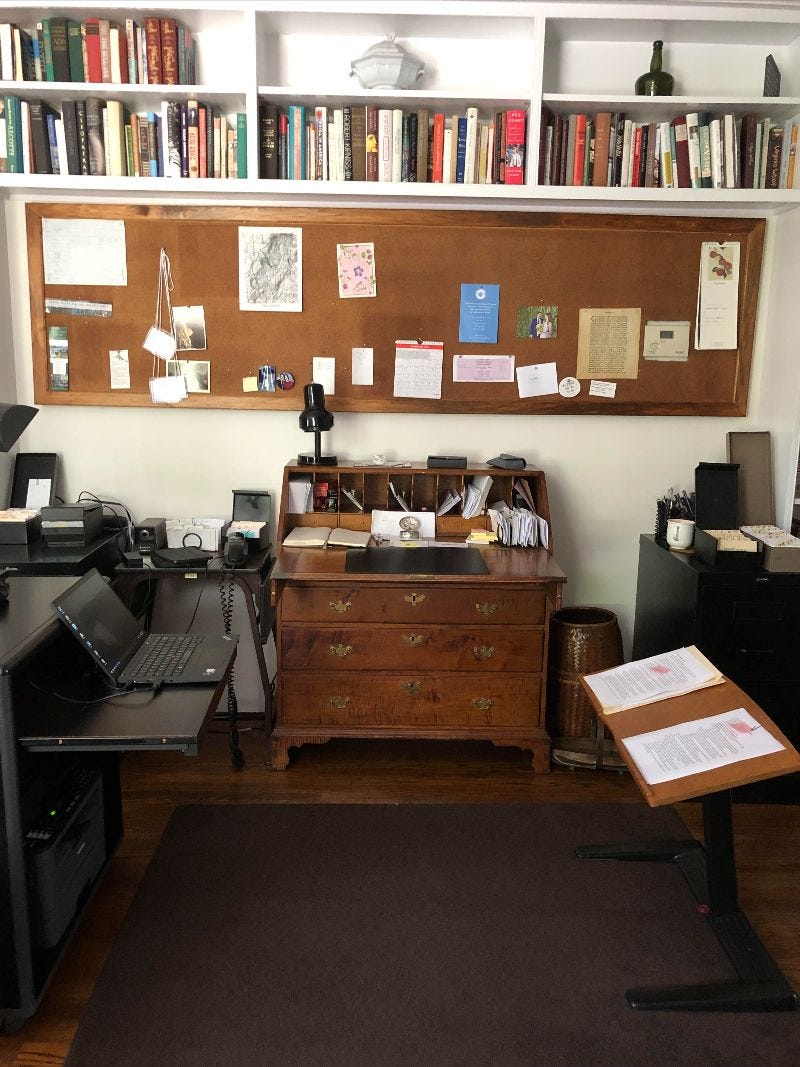 Dear Friends and Readers, 

Unlike artists who typically render images of their studios with paint, we writers usually use words to describe where we work. Often, as non-visual artists, we write more about the aura of a writing room than what it actually looks like.

Virginia Woolf, who famously said that a woman writer needs a room of her own, stressed the importance of simply having a private place to work. Since words make sounds in our heads, some writers mention the need for a silent space. Other writers like to face a window while some prefer a blank wall.

We all like shelf space for our own published books or wall space for their framed jacket covers to remind us that our fragmentary ideas and rough drafts will also become finished books.
Writers use all kinds of desks. Ralph Waldo Emerson worked at a large round revolving table. I once had an ingenious Scandinavian desk that when closed looked like a wooden box and when opened displayed three sets of shelves, a drawer, and a pull-out typing surface. It fit into a small bedroom.

My first writing room was a tiny maid's room in a New York apartment; it had a big closet, a window, and a door that shut. The one I have now in my house is a large downstairs room with large windows that let in morning light. Besides bookcases, it has my grandmother's chaise longue, and my mother's antique desk.

Some writers opt for sheds or cabins to work in away from where they live. Michael Pollan wrote a book about the tiny hut behind his former Connecticut home titled A Place of My Own. He explained that he helped build it in order to work with his hands instead of with words all the time. 

He called it "the house for the self that stood a little apart and at an angle, the self that thought a good place to spend the day was between two walls of books in front of a big window overlooking life. The part of me that was willing to wager something worthwhile could come of being alone in the woods with one's thoughts, in a place of one's own, of one's own making." Well said, Michael.

With Warm Regards,
Laurie

News and Events

Word for Word: A Writer's Life has just received a five-star review from Readers' Favorite, which called it "a poignant and in-depth look at one writer as she matures and defines herself." 

Portrait of an Artist: A Biography of Georgia O'Keeffe has been named the second-best biography of an artist in 2023 by Facts Chronicle, forty-three years after it was first published in 1980.

"Life Stories With Laurie Lisle"
Thursday, Nov. 16th, 5 to 6 p.m.
The Norfolk Library
9 Greenwoods Road East
Norfolk, Connecticut 06058
Books by Laurie Lisle
Click on each book cover to view more about the title